The Checklist
Climate change is now an emergency.  It is no longer about a polar bear floating on a tiny piece of ice.  
It is about flooding, wildfires, crop failures, hurricanes, evacuations.  It's about forced migration, hunger and food insecurity.  It's about social isolation of staying indoors for months at a time.  It's also a direct threat to your own health, with head, dehydration, and natural disaster causing more and more death and disability not just in the remote developing world, but here at home as well.  The sirens of the climate emergency are sounding daily.  
In June 2021, before summer has even kicked off, the western US is experiencing its worst drought in over a decade, with new wildfires at a 10-year high.   In Brazil, the Amazon is experiencing its worst drought in 90+ years.
People are getting displaced globally and we have heartbreaking stories of desperation and death as people try to flee areas of food insecurity or military conflict.  In this first half of the 21st century, it is the global poor who will suffer the most from the climate emergency, with financial insecurity, hunger, water scarcity, natural disasters, political unrest, and direct health effects from heat and pollution.  As we enter the second half, even affluence will be no guarantee of security.
Who is most affected by the climate emergency here at home?  It is the most vulnerable people in our communities: children, babies, pregnant women, elderly, poor, undocumented immigrants, and minorities.
1. Avoid being outside during peak heat times, especially between 10am and 3pm.
2. Be mindful of air quality.  Especially if you are prone to breathing diseases like allergies, asthma or COPD.  AirNow.gov can tell you how safe it is to go outside.  Plan your outdoor time for when the air is more breathable.  
3. When you need to be outside, stay hydrated and get some electrolytes.  Symptoms that you may be dehydrated include thirst, mild headache, dizziness, lightheadedness, increased heart rate. For outdoor workers, this damage over time can affect the kidney.  Meso-American nephropathy is a damaging example of climate-caused diseases.  
4. Beware certain medicines on hot days!  


Blood pressure medicines pose a real risk.  As the weather warms, we need less blood pressure medicine and they can cause you to pass out.  Thiazide Diuretics like hydrochlorothiazide (HCTZ) can dehydrate you.  Beta blockers, calcium channel blockers, and ACE/ARB blockers like lisinopril or losartan impair your body's ability to give off heat or block your response from cooling off.
Anticholinergic medicines like allergy medicines (diphenhydramine/Benadryl) or overactive bladder medicines reduce sweating and can make you more sensitive to the heat.  
ADHD medicines, antipsychotics, and tricyclic antidepressants (amitriptyline, nortriptyline) can reduce your resistance to heat-related diseases.  
NSAIDs like ibuprofen or naproxen, and antibiotics like sulfa or ciprofloxacin or doxycycline can make you more sun-sensitive.

5. Be a solution to the climate emergency.  If we all address climate change by polluting more (such as more air conditioners), it will only get worse.  This starts with learning the facts.  Educate yourself regularly, by reading climate news or watching documentaries like Inconvenient Truth, Our Planet, Plastic Ocean, Food Inc.  
6. Calculate your carbon footprint.
Your energy provider.  What kind of car, how long is your commute.  Food waste is a big contributor.  Meat and livestock are some of the most profound emitters of carbon.
7. Switch to cleaner energy.  Contact your utility and switch over to wind or solar-generated power.  Choose green power from renewables like wind and solar.  This is now available in most states!  To survive, humanity needs to stop burning stuff!  When buying appliances, switch to greener ones like a heat pump instead of a natural gas furnace.  
8. Reduce your footprint by actually consuming less.  Avoid single use plastics.  Buy less stuff.  Compost.  Learn how to recycle in your area including plastic, glass, metals, and electronics.  
9. Food waste is a leading contributor to climate change.  According to the World Resources Institute, about ⅓ of all food produced for human consumption is lost or wasted.  "If food loss and waste were its own country, it would be the world's third largest emitter - surpassed only by China and the United States."  At the grocery store buy unwanted food like single bananas. In your fridge, reach first for the food that is getting closest to its expiration. Shop online produce that deliver sustainably and provide groceries that would otherwise be discarded (imperfect foods, misfit market, etc).
10. Reduce plastic water bottle consumption.  17 million barrels of oil are used to produce 50 billion plastic water bottles each year.  Use reusable bottles!  Water bottles contribute to microplastic consumption.  
11. Clean your local transportation.  Walk and bike more.  Live (if you can) in a place where you don't need a car.  Reduce your commute.  Keep tire pressure to goal.  Electric cars reduce carbon emissions by an average of 50%, and they only get cleaner with time as we generate more power from renewable sources.  
12. Share your green skills with others.  Help your office reduce disposable waste.  Reusable instead.  Call local restaurants.  Teach kids!
13. Use your power locally.  Contact representatives.  Advocate for your health and environmental health.  Your voice is heard.  Public transportation.  Eliminate plastic waste campaign.  The 5 Calls app helps you make 5 phone calls in 5 minutes
Podcast
Listen to a podcast about this checklist
Contributors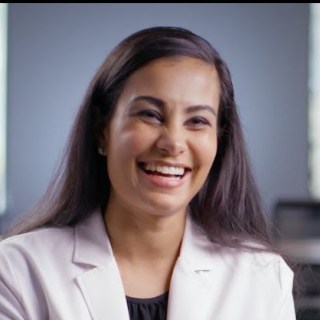 Poonam Maru, DO FACP
Dr Maru is board-certified internal medicine physician and fellow of the American College of Physicians. In addition to climate change, her interests include medical education, physician wellness, and plant-based green living.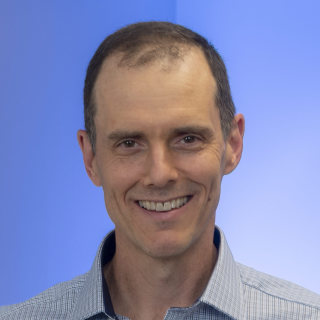 Dave is the creator of healthrules.org and helped build this checklist.  He is a primary care internist, fellow of the American College of Physicians, and a diplomate of the American Board of Lifestyle Medicine.
Handout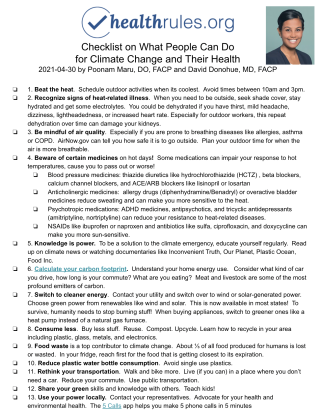 References
Climate change information: https://www.nrdc.org/stories/global-climate-change-what-you-need-know
Carbon footprint calculator: https://www.nature.org/en-us/get-involved/how-to-help/carbon-footprint-calculator/
Heat-related illnesses: https://www.cdc.gov/disasters/extremeheat/warning.html
Learning about plastics: https://plasticoceans.org/
Air Quality: AirNow.gov
Teach kids: https://www.nrdc.org/stories/your-guide-talking-kids-all-ages-about-climate-change
Food waste: https://www.epa.gov/recycle/reducing-wasted-food-home
Recycling: https://www.epa.gov/recycle/how-do-i-recycle-common-recyclables
Advocacy: 5calls.org
Psychotropic medications: https://dbh.dc.gov/sites/default/files/dc/sites/dmh/release_content/attachments/8777/heatadvice.pdf
Renewable energy at home: https://www.energy.gov/energysaver/buying-and-making-electricity/planning-home-renewable-energy-systems
Tessum CW, Paolella DA, Chambliss SE, Apte JS, Hill JD, Marshall JD. PM2.5 polluters disproportionately and systemically affect people of color in the United States. Sci Adv. 2021 Apr 28;7(18):eabf4491. doi: 10.1126/sciadv.abf4491. PMID: 33910895.
Gao, X., Coull, B., Lin, X. et al. Short-term air pollution, cognitive performance and nonsteroidal anti-inflammatory drug use in the Veterans Affairs Normative Aging Study. Nat Aging 1, 430–437 (2021). https://doi.org/10.1038/s43587-021-00060-4
Correa-Rotter R, García-Trabanino R. Mesoamerican Nephropathy. Semin Nephrol. 2019 May;39(3):263-271. doi: 10.1016/j.semnephrol.2019.02.004. PMID: 31054625.
Give Feedback
Is this checklist missing something? Do you have a success story from trying this checklist out? We would like to hear your feedback.