The Checklist
If you want to receive healthcare without accidental harm...
When you receive health care, there is risk.  Almost everything we do in healthcare carries pretty significant possibility of error or imperfect care. Some have attempted to quantify the impact of error in medicine.  The answer is: it is big.  In an inpatient setting, errors happen about 3% of the time, and they are deadly about 6% to 13% of the time.  AHRQ estimates that 1 in 8 Medicare patients in the United States experience medical error in a given hospitalization.  In an outpatient setting, recommended treatments are followed only 55% of the time.  
There is a newish field of medicine to the rescue it is called patient safety.  Organizations like CampaignZero and government bodies like AHRQ have identified some best practices to minimize medical error and maximize quality of care.
The recurring theme is to take an active role.  Communicate, a lot.  Ask questions, question decisions, track events.  Don't assume your health care team has seen your results or correctly acted on them.  It can feel frighterning to ask questions but it is essential to keeping yourself safe.  Healthcare providers need to make a welcoming environment, and some do this better than others.
There is another kind of error that is seldom discussed or researched.  It is failure to enact what is possible through behavior change.  The medical system is a hammer that looks to all of our health problems as nails that need hammering with tests, medications, and procedures.  Lifestyle medicine practitioners observe that modern traditional healthcare systematically omits discussions on how profoundly beneficial behavior change can be, when done right. 
A person with type 2 diabetes was never once informed that this is a potentially reversible condition (especially early on) through a change to a whole food plant based diet.  A person with chronic reflux is kept on proton pump inhibitors their entire adult life, when simply stopping coffee intake may have solved the problem.  A person who endures major depression for decades despite treatment with a bunch of antidepressants, when coaching and counseling around exercise would have resolved their depression early on.  None of these is counted as medical error yet they are rampant.  Unfortunately this kind of "error" if we want to call it that occurs far greater than half the time.  
Checklist to Maximize Your Medical Safety
1. Bring a family member or supporter to each visit.  They can think straight, take notes, be a 2nd person to go thru this. 
2. Keep a health journal.  In the hospital, track your medicines, tests, and procedures.  When somebody new walks in the hospital room, ask who they are.  Outside of the hospital, write down the dates of hospitalizations or treatments.  
3. Talk with your healthcare team such that you understand what is going on.  The Institute for Healthcare Improvement recommends you ask these 3 questions:
What is my main problem?
What do you need me to do?
Why is it important?
4. More is not always better in healthcare.  Medical tests and treatments often have unintended consequences.  When presented with a new test or procedure, ask: Why do I need this?  What are the alternatives?  Sometimes the best approach is to wait a bit.  Can we use time as a diagnostic test?
5. Follow up every test. Don't assume no news is good news. Call your doctor's office to make sure your medical provider has the results and ask if they will communicate them to you.
6. Medications are a leading source of harm!  Deprescribing means appropriate removal of medications from your list.  It is a great thing to discontinue medicines, because they carry risk.  Always have your medication list with you.  With reason for each drug, who prescribed.  It can be any class of drugs but some common drugs that we can get off of include acid blockers, sleep aids. 
7. Opioid pain medicines should almost never be long term drugs.  There are other non-opiate pain medications and alternative ways of treating most kinds of pain.
8. For procedures there can be big risk.  Get a second or third opinion.  Ask your surgeon or proceduralist how many times have you done this?
9. Develop a questioning attitude. Ask your healthcare professional if they have washed their hands. Ask them if they communicated with your cardiologist (or whatever specialist you might have). If your provider says they will do something, follow-up to make sure they did. This can feel hard but it is important.
10. Facilitate communication between your different healthcare providers.  They are not paid to communicate and they are busy so there will always be friction in making communication happen. 
11. Look outside the box of traditional medical care for less invasive approaches.  Chronic knee pain may be best initially addressed by exercises from a physical therapist rather than injections from a doctor.  Your doctors most likely have not been trained in the benefits of healthy lifestyle to prevent and reverse chronic disease, or in how to effectively help someone achieve behavior change.  Find a lifestyle medicine practitioner who can complement your traditional care.  Type 2 diabetes, early in tis course, may reversed by a good plant based dietitian rather than managed lifelong by a traditional endocrinologist.  
Podcast
Listen to a podcast about this checklist
Contributors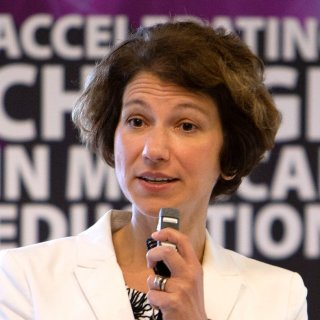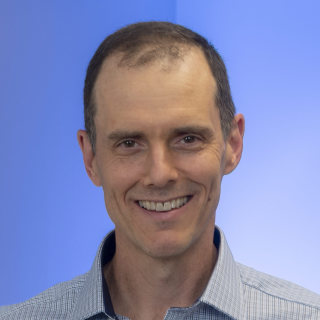 David Donohue, MD MS FACP DipABLM
Dave is the creator of healthrules.org and helped build this checklist.  He is a primary care internist, fellow of the American College of Physicians, and a diplomate of the American Board of Lifestyle Medicine.
Handout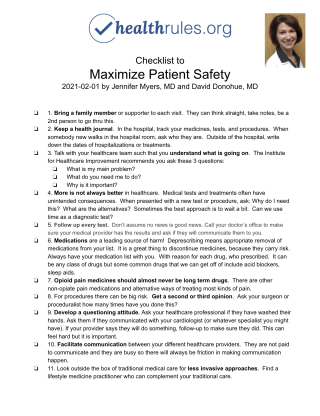 References
Singh H, Schiff GD, Graber ML, Onakpoya I, Thompson MJ. The global burden of diagnostic errors in primary care. BMJ Qual Saf. 2017;26(6):484-494. doi:10.1136/bmjqs-2016-005401
Institute for Healthcare Improvement.  Ask Me 3 Brochure.  http://www.ihi.org/resources/Pages/Tools/Ask-Me-3-Good-Questions-for-Your-Good-Health.aspx Accessed 2021-02-07
Hines S, Kynoch K, Khalil H. Effectiveness of interventions to prevent medication errors: an umbrella systematic review protocol. JBI Database System Rev Implement Rep. 2018 Feb;16(2):291-296.
McGlynn EA, Asch SM, Adams J, Keesey J, Hicks J, DeCristofaro A, Kerr EA. The quality of health care delivered to adults in the United States. N Engl J Med. 2003 Jun 26;348(26):2635-45. doi: 10.1056/NEJMsa022615. PMID: 12826639.
Brennan TA, Leape LL, Laird NM, Hebert L, Localio AR, Lawthers AG, Newhouse JP, Weiler PC, Hiatt HH. Incidence of adverse events and negligence in hospitalized patients. Results of the Harvard Medical Practice Study I. N Engl J Med. 1991 Feb 7;324(6):370-6. doi: 10.1056/NEJM199102073240604. PMID: 1987460.
Thomas EJ, Studdert DM, Burstin HR, Orav EJ, Zeena T, Williams EJ, Howard KM, Weiler PC, Brennan TA. Incidence and types of adverse events and negligent care in Utah and Colorado. Med Care. 2000 Mar;38(3):261-71. doi: 10.1097/00005650-200003000-00003. PMID: 10718351.
Internet Citation: The 10 Questions You Should Know. Content last reviewed November 2020. Agency for Healthcare Research and Quality, Rockville, MD. https://www.ahrq.gov/questions/10questions.html
Internet Citation: 20 Tips To Help Prevent Medical Errors: Patient Fact Sheet. Content last reviewed November 2020. Agency for Healthcare Research and Quality, Rockville, MD. https://www.ahrq.gov/questions/resources/20-tips.html 
Give Feedback
Is this checklist missing something? Do you have a success story from trying this checklist out? We would like to hear your feedback.